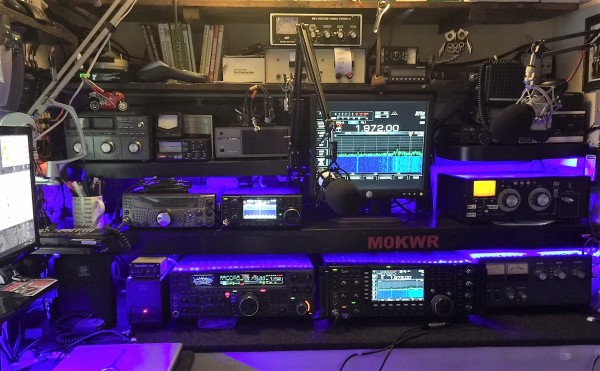 Noisy HF Bands what can you do?
Using your transmitting antenna for receiving, this can often make the noise problem seem worse than it really is.
                                ​Try a dedicated receiving antenna.                                

 Antennas for 160 - 80 meters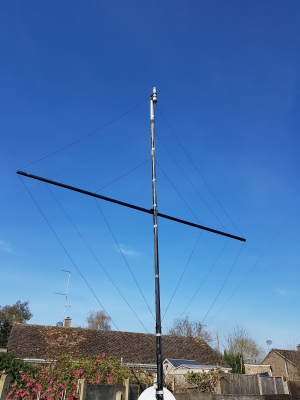 My antennas are always changing but today when I wrote this I only had 3 antennas. 
I have a 240 ft 160 mtr inverted V doublet @ 40ft  a 60 mtr inverted V dipole dipole @ 25ft.

For receive o 160 mtrs I purchased the Wellbrook Loop. Expencive i thought but I gave it a go and purchased one.
 
The Wellbrook loop stopped working a while ago and my home made version of the welbrook is still working OK, Obviously somthing (RF) has blown the amp in the wellbrook even though I take every precaution to protect it.

My final summary of the Wellbrook Loop. It does work very well but doesn't last long if subjected to strong RF feilds. £180 for 10 months makes this the most expecive receive anntena I have purchased so far.
To combat the ever increasing noise level on 160 meters I replaced my old 160-meter coax receiving loop with a Wellbrook ALA100LN large aperture loop.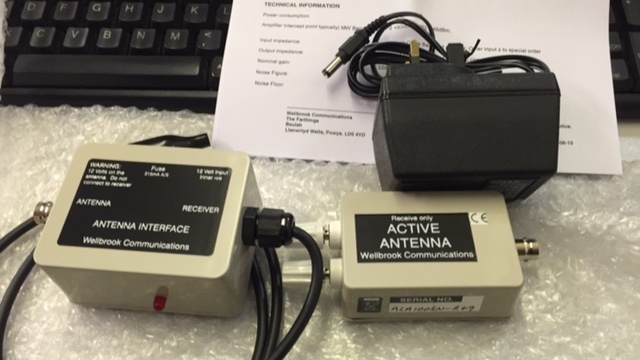 Receive Loops and filters
160mtrs is our main band of operation so at this point in time we needed a high pass. Scott G8EQY made up a couple of filters and this filter was added to the receiver antenna socket and this did suppress the AM signals although you do get some loss. It did considerably reduce the multiple images from 1332khz transmitter n my SDR Play.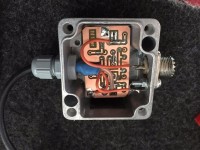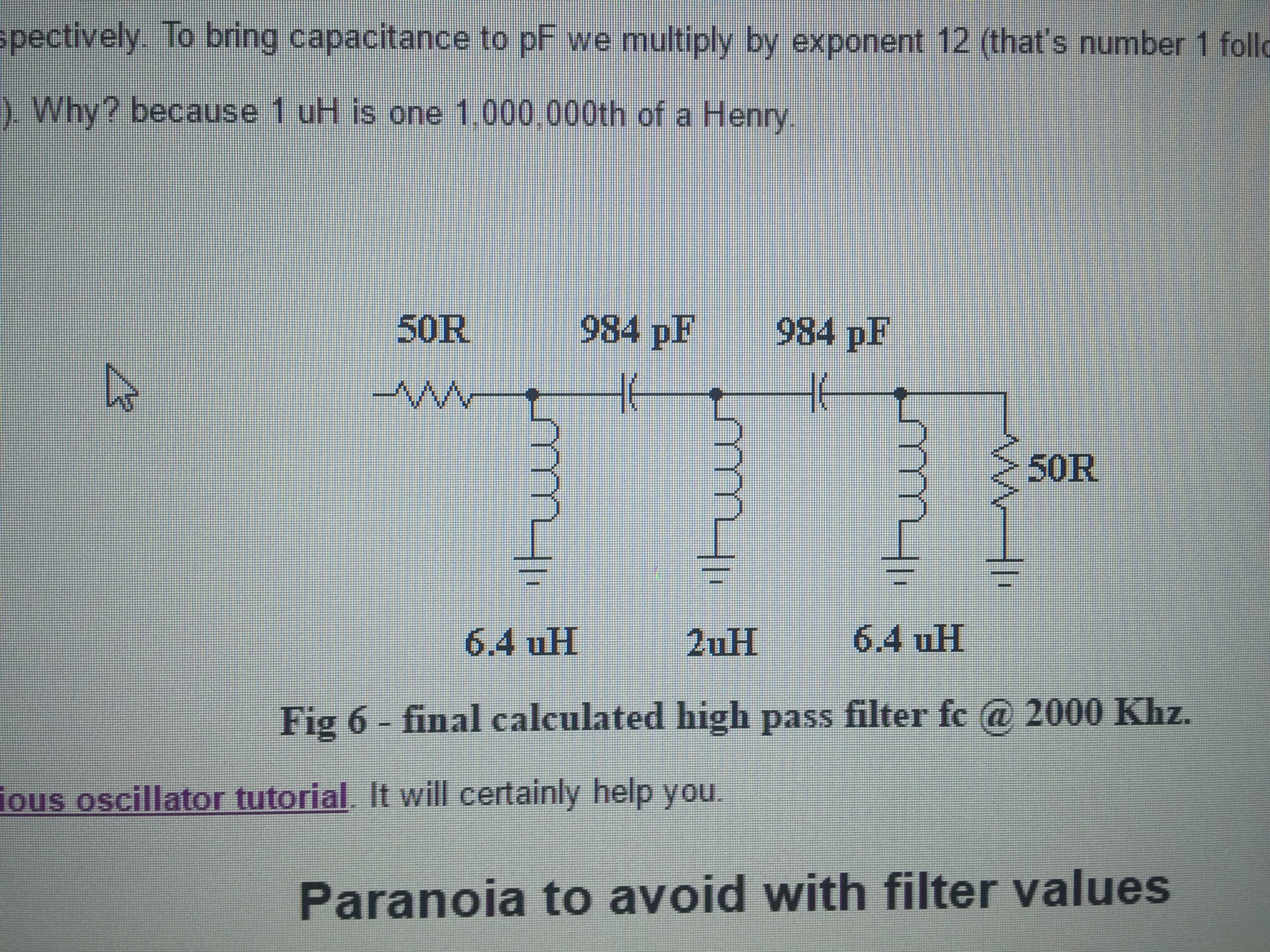 Home brew Loop preamp installed in spare plastic box I had just so I could try it out. The results are very good and it is camparable with the the wellbrook loop. Still doing back to back tests but it looks like its going to be a very good performer. After the recent loss of the Wellbrook loop this has become my main 160 mtr reeiving antenna and its working very well.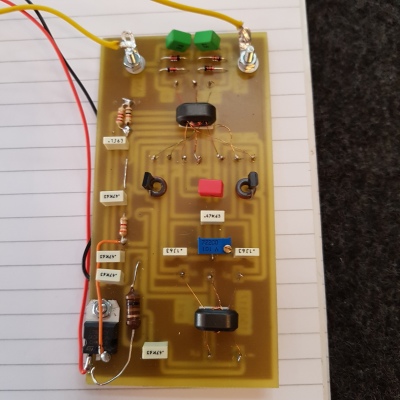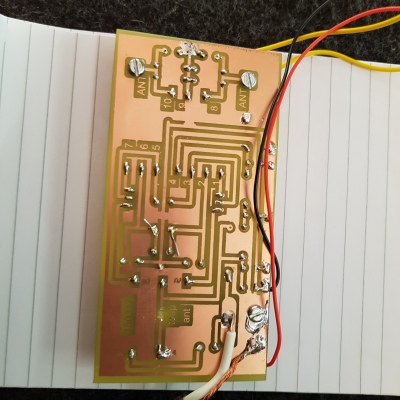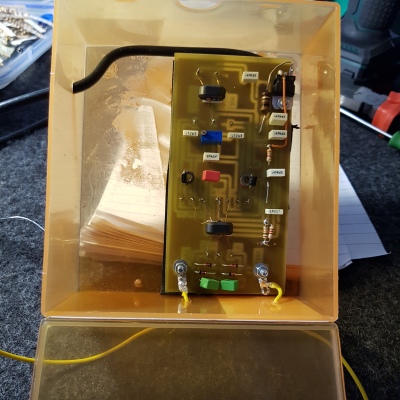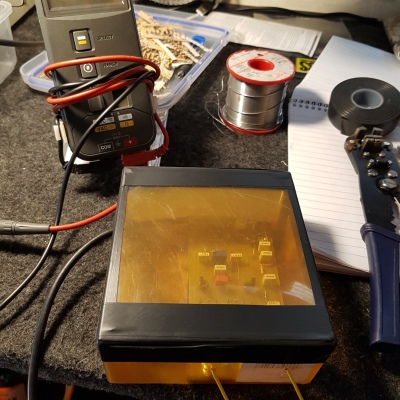 Something seriously worth considering if you are installing a receiving antenna
Front End Receiver Protection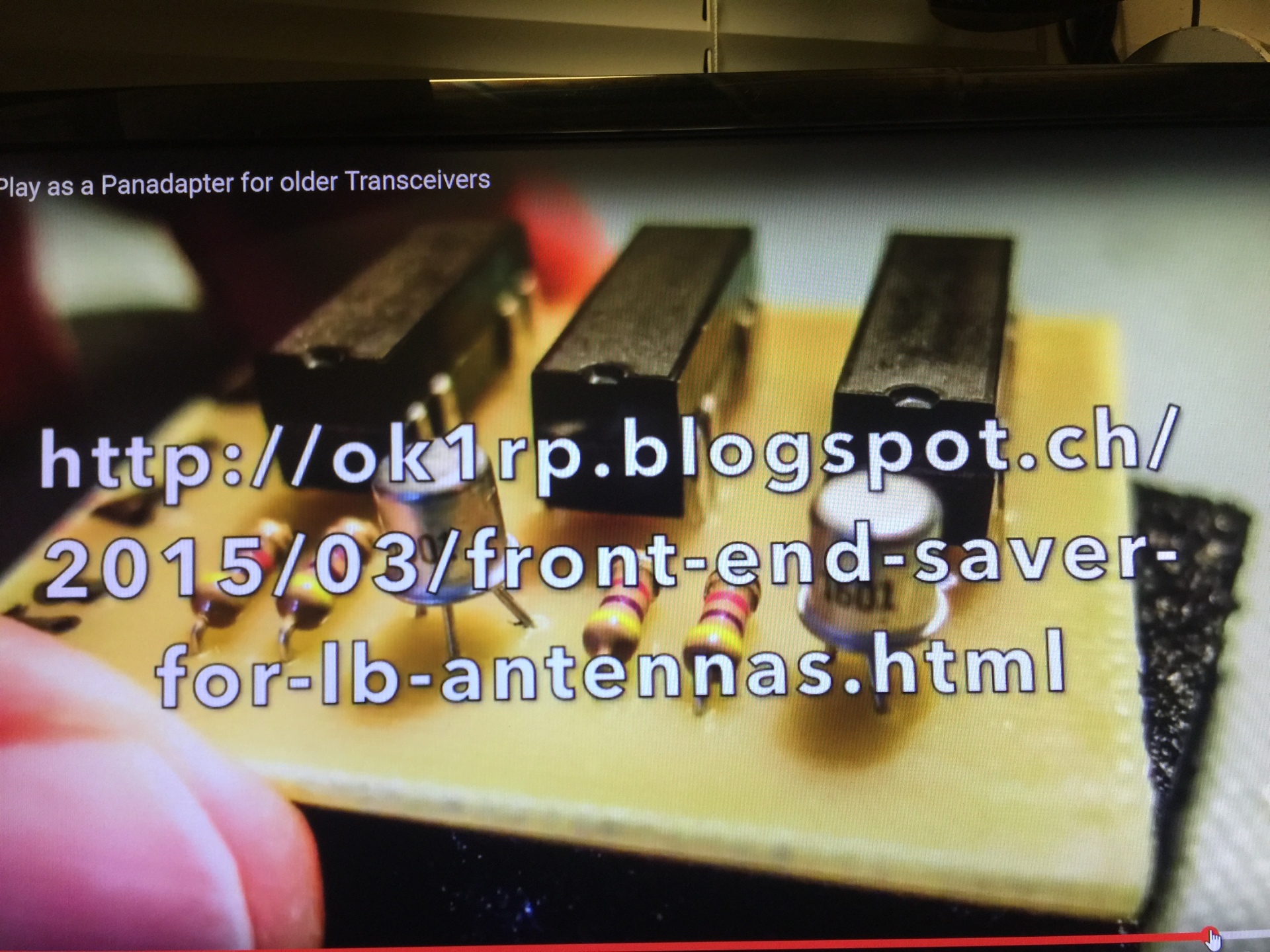 Produced by Peter OK1RP

Click the picture to visit his web site.
Original design by
 Gary, KD9SV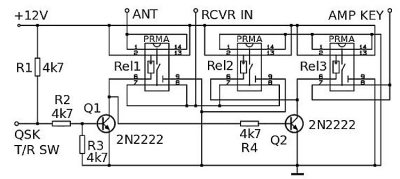 when you have put up a receive loop or mini whip or any other receive only antenna for that matter you want to make sure you don't transmit RF into your receive antenna and then into your radio causing expensive radio damage. This is a serious thing to consider with receive antennas. To avoid this problem some form of switching is required to stop RF getting into your radio or receiver.

A good protection circuit to eliminate the possibility of blowing out Your receiver's front-end while using these auxiliary receive antennas specially on low bands.

I was discussing this RF problem with a local Radio amateur G8EQY who has facilities to hand to produce the cicuit board for this project. The following week Scott gave me the finished and built circuit board ready for testing. Totaly unexpected and an amazing quality job. See the pictures of Scotts completed project. The relays used are HJR1-2C L-12V DC which have an  operate/release time: 6/4ms and these work very well.

OK so what does it do? In simple terms it disables your receiver antenna before switching your transmitter to TX. Connect your foot switch or TX button to the box/panel then connect your transmitter PTT line to the box. The coax through the box is cutting off your receive antenna before your transmitter goes into transmit. I use this to protect my SDR Play and FT2000D. The FT2000D & TS2000 have a receive antenna sockets. All my transmitters are connected through the box and one PTT button is in use.

You could always use a light bulb Hi Hi.
​​
What do I think of my new Icom IC7700?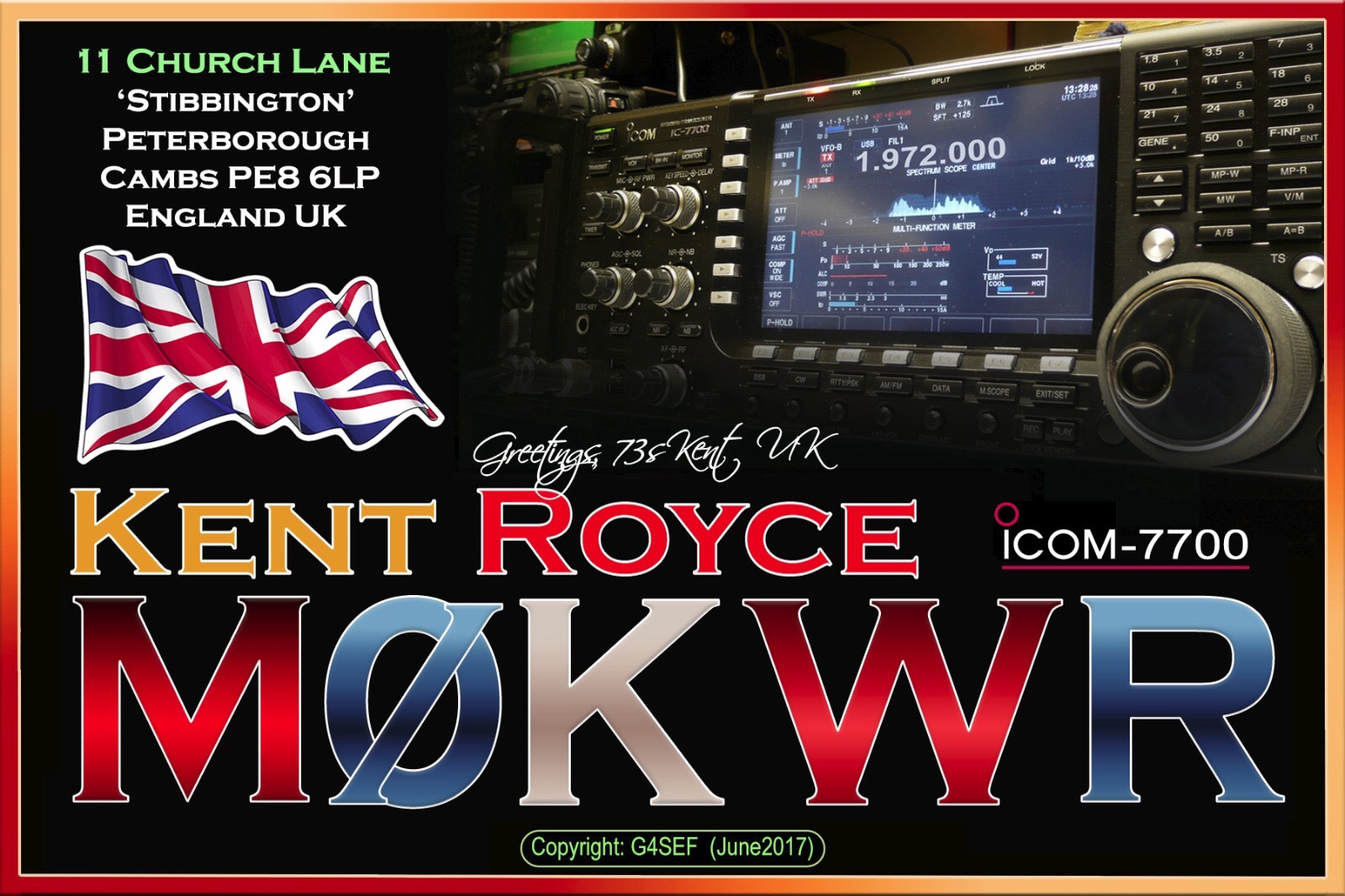 What do I think of my new Icom IC7700?
I have owned many Yaesu and Kenwood radios for many years but after buying the IC7300 12 months ago it was a bit of a decision maker that the next radio I purchase would be another Icom.
May be I'm a little late in buying the Icom IC7700 considering how long it's been on the market but it was something I really liked the look of  with the big screen and the option to add an external monitor plus some decent noise cancelling filters.
I looked at the IC7800 but that is now an older design than the IC7700 plus the second receiver is not a requirement as the odd rag chew doesn't require a second receiver so I stuck with the IC7700 choice.
I am over the moon with the IC7700 it is the best radio I have installed in my shack since I started in ham radio 14 years ago. We all have different things we look for in a radio and I wanted a radio with DSP with great noise cancelling filters and I am not disappointed is brilliant. I listen to many nets on 80 metres and 160 metres but all you hear most of the time is the bands are bad and not everyone on the net can hear everyone else on the net or my noise level is too high.
I know a good antenna helps but listening on the IC7700 is like FM. It's an absolute pleasure and I have yet not to hear everyone who calls in on the nets. This really does exceed my expectations and with 200 watts of power on tap it's ticking over at the usual 100 watts.
It's a great radio and I am very pleased with my choice.
Some great info is on this site if you own an IC7700 or you are thinking of buying one.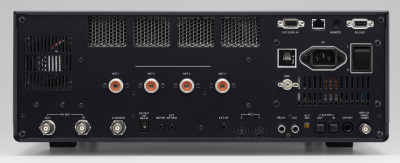 Landing at Leven Airfield.

Filmed by Phil M0VEY
Day out to the Hornsea Rally. Departed Peterborough Conington Airfield landed at Leven Airfield north of Hull. Picked up by Phil, Rog and Nick. 

SDR Radio

SDR Uno running on the play SDR receiver
Copyright Kent Royce 2017